Isthmus of Corinth – Epidaurus – Mycenae – Ancient Olympia – Delphi
Archaeological Sites of Mycenae, Olympia & Delphi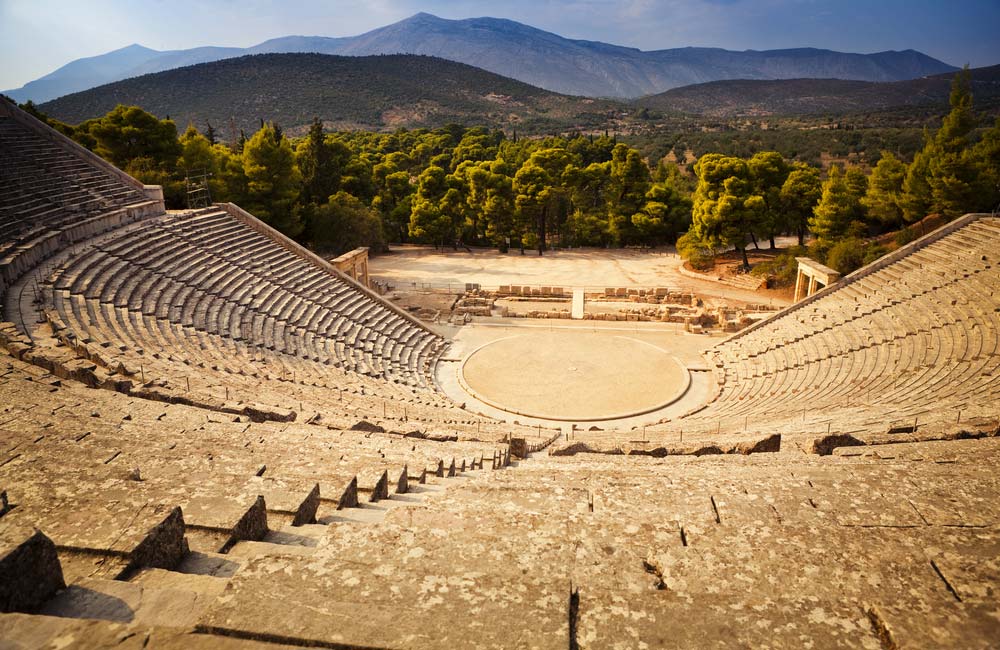 1st Day: ATHENS – ISTHMUS OF CORINTH – EPIDAURUS – MYCENAE – ANCIENT OLYMPIA
Our day starts from Athens and we depart for Peloponnese. Our first stop will be the Isthmus of Corinth. It is a narrow strip of land of 6 kilometres length, connecting Central Greece with the Peloponnese. We will have free time for photos and then we will visit Epidaurus. Epidaurus was a small city in ancient Greece at the Saronic Gulf. Epidaurus was known for its sanctuary situated about five miles (8 km) from the town, as well as its Theatre, which is once again in use today. The huge theatre that delighted Pausanias for its symmetry and beauty used again today for dramatic and other performances. The Theatre was designed by Polykleitos the Younger in the 4th century BC. The Theatre is admired for its exceptional acoustics, which permit almost perfect intelligibility of unamplified spoken words from the proscenium to all 15,000 spectators, regardless of their seating. Then, we will depart for Mycenae. Mycenae was an ancient town of Argolis and one of the biggest centres of Greek civilisation constituting a powerful military fortress. We will visit the Kingdom of the mythical Agamemnon, whom Homer praised in his epics. Then, we depart for Olympia. Arrival at our hotel. Overnight stay.
2nd Day: ANCIENT OLYMPIA – RIO ANTIRRIO BRIDGE – DELPHI
After breakfast we depart for Ancient Olympia. It was an ancient Greek city, known as the venue of the Olympic Games. In Olympia stood the chryselephantine statue of Zeus, which during antiquity was one of the 7 wonders of the world. A guided tour will follow in the Archaeological Museum and the Stadium. The capacity of the Stadium is about 45,000 spectators. We continue our journey crossing the longest cable bridge. Rio – Antirrio bridge, officially known as "Charilaos Trikoupis Bridge" after the statesman who first envisaged it, is one of the world's longest multi-span cable-stayed bridges and the longest of the fully suspended type. It crosses the Gulf of Corinth near Patras, linking the town of Rio on the Peloponnese peninsula to Antirrio on mainland Greece by road. We will make an intermediate stop for coffee and then we depart for Delphi. It was an ancient Greek city in which the most important Oracle of ancient Greek world was operated. Arrival at our hotel. Overnight stay.
3rd Day: DELPHI – ATHENS
Departure after breakfast. We will be guided around the Archaeological Site and the Museum of Delphi and then we will have free time for lunch. Departure from Delphi and on our way back to Athens we will make intermediate stops. We will arrive back in the night with the best memories.
Other Programs / Excursions